Academy Awards or also known as Oscars will be held again for the 91st time. This prestigious event will take place in February 2019. Precisely on the 24th of 2019 February, at the Dolby Theater in Los Angeles, the Academy Awards will be held. The world film industry is looking forward to this moment.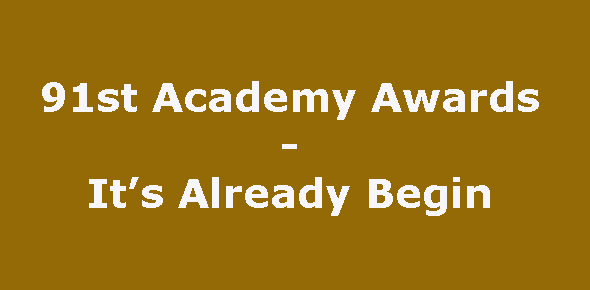 It is a time when their hard work and creativity will be rewarding and admitting by the world. To be able to enter this nomination, of course, it takes hard work and excellent cooperation from the director, players, and the other staffs. The competitors ranging from producers, directors, actors, actresses, supporting actors to makeup artists. There are 24 categories nominated for Oscar awards, namely: Best Picture, Best Director, Best Actor, Best Actress, Best Supporting Actor, Best Supporting Actress, Best Original Screenplay, Best Advertising Screenplay, Best Animated Feature Film, Best Animated Short Film, Best Original Score, Best Original Song, Best Sound Editing, Best Sound Mixing, Best Foreign Language Film, Best Documentary – Feature, Best Documentary – Short Subject, Best Live Action Short Film, Best Production Design, Best Cinematography, Best Make-Up and Hairstyling, Best Costume Design, Best Film Editing, and finally Best Visual Effects.
September became the beginning, unofficially, of the Oscar season. Usually, films that are mostly nominated are those aired between September and the end of December, but there will also be films from Spring and Summer that will be including on January 22, 2019. This Oscar season will be a tough time for those who compete. Who can enter, who is the favorite, who will be a dark horse, these questions will be a warm conversation among film artists until January. To be able to enter as a nomination, the producer must sign and collect an Official Screen Credits form in early December. This way is at the same time proving that the film mentioned meets the criteria.
The voting group will then decide five nominations from each category. Only actors and directors can choose nominations for acting award, but all voters are allowed to vote in the Best Picture category. The committee has begun compiling a list of who will be nominated for an Oscar. Before the start of the nomination phase, there some other awards that could be used as standards for films to joining the nomination in the Oscar. Other prizes include awards from Venice, Telluride, Toronto, and New York. Usually, the winner of the award has the potential to be nominated for an Oscar. There are some potential films which are The Favorite, Can You Forgive Me, Beautiful Boy, Rome, and A Star Is Born.
Apart from the voting process, it turned out that the Oscar committee would add one award category for 2019. Best Popular Film. However, the committee has confirmed that this category is not included in the upcoming awards event. This cancellation seems to be due to the pros and cons of this category. There are several actors, fans, and figures in the film industry who criticize and disagree with this idea. Because of these things, finally, the committee decided not to add this category. Although not done, the committee did not abandon the idea and will discuss it in the future.